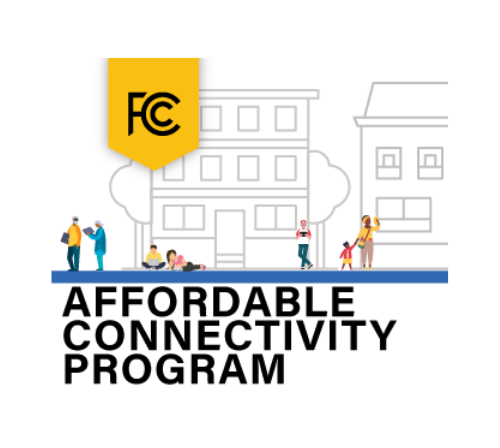 The Affordable Connectivity Program (ACP) supports eligible low-income households struggling to afford monthly internet service. This critical program ensures that households have the connections they need for work, school, healthcare and more.
Families are encouraged to apply for these benefits:
A discount of up to $30 per month toward internet service for eligible households and up to $75 per month for households on qualifying Tribal lands.
A one-time discount of up to $100 to purchase a laptop, desktop computer or tablet from participating providers.
The ACP is limited to one monthly service discount and one device discount per household. Multiple households may be eligible at a single address. For more information on which households are eligible, visit the ACP's households page.
Who is eligible to receive ACP support?
To qualify, one member of the household must meet one of the below criteria:
Has an income that is at or below 200% of the federal poverty guidelines;
Participates in any of the following assistance programs: SNAP, Medicaid, Federal Public Housing Assistance, SSI, WIC, or Lifeline;
Participates in any of the following Tribal specific programs: Bureau of Indian Affairs General Assistance, Head Start, Tribal TANF, or Food Distribution Program on Indian Reservations;
Participates in the Free and Reduced-price School Lunch Program or the School Breakfast Program, including through the USDA Community Eligibility Provision;
Received a Federal Pell Grant during the current award year; or
Meets the eligibility criteria for a participating provider's existing low-income program.
For more information on eligibility, visit the Federal Communications Commission website.
There are two steps to get your ACP benefit; apply now and save!
Go to AffordableConnectivity.gov to submit an application or print out a mail-in application.
Once approved, contact your preferred participating provider. To enroll in the ACP, select a plan and the discount will be applied to your bill.
Some providers may have an alternative application that they will ask you to complete.
Eligible households must both apply for the program and contact a participating provider to enroll.
If you have any questions about eligibility or application status, please reach out to the ACP Support Center at (877) 384-2575.
---
El Programa de Descuentos para Internet
El Programa de Descuentos para Internet (ACP, por sus siglas en inglés) apoya a los hogares elegibles de bajos ingresos que luchan por pagar el servicio de Internet mensual. Este programa fundamental garantiza que los hogares tengan las conexiones que necesitan para el trabajo, la escuela, la atención médica y más.
Se alienta a las familias a solicitar estos beneficios:
Un descuento de hasta $30 por mes para el servicio de Internet para hogares elegibles y hasta $75 por mes para hogares en tierras tribales que califican.
Un descuento único de hasta $100 para comprar una computadora portátil, una computadora de escritorio o una tableta electrónica a través de un proveedor participante.
El ACP está limitado a un descuento de servicio mensual y un descuento de dispositivo por hogar. Varios hogares pueden ser elegibles en una sola dirección. Para obtener más información sobre que hogares con elegibles, visita la página de hogares de la ACP.
¿Quién es elegible para recibir el apoyo de ACP?
Para calificar, un miembro del hogar debe cumplir con uno de los siguientes criterios:
Tener un ingreso igual o inferior al 200% de las pautas federales de pobreza
Participa en cualquiera de los siguientes programas de asistencia: SNAP, Medicaid, Asistencia Federal de Vivienda Pública, SSI, WIC o Lifeline;
Participa en cualquiera de los siguientes programas tribales específicos: Oficina de Asistencia General de Asuntos Indígenas, Head Start, Tribal TANF o Programa de Distribución de Alimentos en Reservas Indígenas
Participa en el Programa de Almuerzo Escolar Gratis o a Precio Reducido o en Programa de Desayuno Escolar, incluso a través de la Disposición de Elegibilidad Comunitaria de USDA
Haber recibido una beca Pell durante el año de concesión actual
Cumplir con los criterios de elegibilidad para el programa existente de bajos ingresos de un proveedor participante.
Para obtener más información sobre la elegibilidad, visita el sitio web de la FCC.
Hay dos pasos para obtener tu beneficio ACP; ¡Aplica ahora y ahorra!
Visita a AffordableConnectivity.gov para enviar una solicitud o imprimir una solicitud por correo.
Una vez aprobado, comunícate con tu proveedor participante preferido. Para inscribirte en la ACP, elige un plan y el descuento se aplicará a tu factura.
Algunos proveedores pueden tener una solicitud alternativa que pedirán que completes.
Los hogares elegibles deben solicitar el programa y comunicarse con un proveedor participante para inscribirse.
Si tienes alguna pregunta sobre la elegibilidad o el estado de la solicitud, comunícate con el centro de soporte de ACP al (877) 384-2575.